Clivus Multrum™ Low Profile (CM LP) with Porcelain Palisade
CM-LP-2 (Inc Palisade)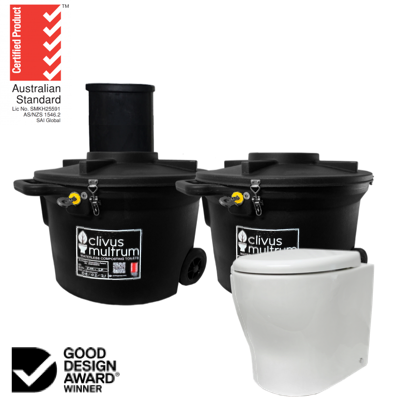 Split System Composting Toilets
Price :
1999.090909
AUD
In stock
[tab name="OVERVIEW"] Clivus Multrum™ Low Profile (CM LP) models are approved for use in most states of Australia and are:
2020 Good Design Award Winner
A world first in its innovative design includes an in built compost mixer, increasing volume and efficiency
Designed by engineers
Australian Innovation Patent No. 2020100970
Australian Made
Easy to assemble onsite and requires minimal ongoing maintenance
Higher quality - these units are built to last!
Price competitive
The CM LP system is a specialised design for tiny homes with the low underfloor clearance requirement of only 450mm! This composting toilet model is suitable for a couple looking to install a composting toilet into their tiny house.

This product is certified to Australian & New Zealand Standard 1546.2:2008 and is currently certified for use in most states.
CM LP PACKAGE INCLUDES:
2 x Double-walled composting chambers (80L each) with crank handle compost mixers. More compost chambers can be purchased for increased capacity.
Waste connecting chute (550mm in length; 245mm in diameter as standard but additional lengths can be supplied)
12 volt 5 watt fan in housing and transformer
Starter pack includes 2 x Nature Quick Microbes, 125ml Nature Flush Enzymes, spray bottle, bulking agent and "Who Gives a Crap" toilet roll
Easy to follow DIY Installation and Maintenance manual.
[tab name="SPECIFICATIONS"]
Capacity

Listed capacities refer to the amount of people, on average, using the unit per day. Do not pick a unit that is below your capacity.

Full time users (Residential/Continuous)
1-2 People

Weights & Dimensions

(L by W by H)
Unit
630 (740 incl. handles) mm W x 450mm H
Floorspace Required
Clearance below floor: ↕ 450mm
Chute Length
550mm

Materials

UV Stabilised LDPE

Electrical Rating

Power Usage
12 Volt 5 Watt
Warranty

ROTO MOULDING COMPONENT

10 years warranty
Certifications / Approvals
SAI Global Certification / AS/NZS 1546.2:2008 On-site domestic wastewater treatment units - Waterless composting toilets. This model is approved in QLD, NSW, VIC, ACT and WA. (The products are approved only if installed as per the installation manual)
[tab name="ATTACHMENTS"]
[tab name="VIDEO"]

[endtab]

Capacity:Low capacity (Part time use / Up to 4 people)
Certified models:Yes
UPS (10% discount already applied when purchased with CM LP) (155.4545)